About the ERAA Program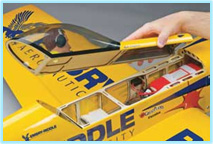 The Embry-Riddle Aerospace Academy (ERAA) at FPCHS (Central) is in reality a very special satellite campus of Embry-Riddle Aeronautical University (ERAU). ERAU is without question the world's leading Aviation University. This partnership provides the students of St. Lucie County a unique opportunity to become successful college students while taking ERAU classes (10th-12th grades) taught by ERAU faculty. The students are enrolled in ERAU and have an official transcript. In a manner of speaking, and as noted on placards at the classroom entrances, the students entering the classroom are entering the University. It is to be noted that this opportunity comes with a very affordable price, NO cost to the family. Likewise a contract is available for a student to pursue studies at a local college, as example IRSC, for up to two years after graduation and have their credits pre-approved and fully transferrable. Other cost saving opportunities may be available in the future.
It is the objective of the program to prepare the student for success in college (any college) or professional trade. Although the program emphasis is on aviation the students are exposed to many different careers. It is this exposure which will hopefully give the student a desire to pursue any field of study which they may select. The students are always encouraged to ask questions or discuss their interests and although the answers are generally associated with aviation, the answer hopefully provides fertile ground for further exploration. Some of the areas of interest that we pursue are Aeronautical Science, Engineering, Computer Aided Design, Unmanned Vehicles, Space, Safety, Homeland Security, Meteorology, and Piloting.
For more information please email James Brannen, ERAA Director or call 772-468-5888 ext 5036
Resources
Students may need to meet special criteria for acceptance.
Application required to be completed for consideration into the program.
---
New students and students who moved back to St Lucie – Apply   
Currently Enrolled Students – Apply